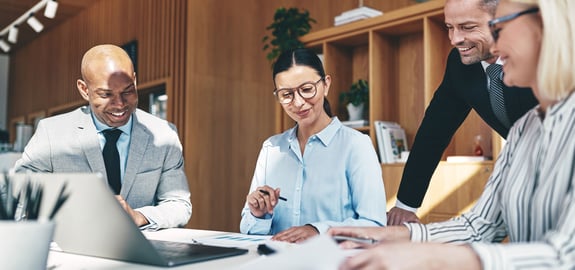 Direct Engagement
How We Can Help You
A direct engagement with the Brightworth Business Exit and Transitions Services group is the most comprehensive engagement offered to our business owner clients. This engagement takes a deep dive into your personal finances and your business's readiness for transition/transaction.
In phases one and two of our five-phase process, the BETS team works with you and your current advisory team to understand your unique vision for a successful exit and prepares recommendations in alignment with that vision.
Phase one and two are typically completed in 120 days. Phases 3 through 5 are dedicated to the execution of the plan. Depending on the transition timeline and the type of transition, these phases can last anywhere from 6 months to 5 years.
Pricing for a direct engagement with the BETS team is dependent on the scope of work associated with the project.
HELPING YOU TO FOCUS ON WHAT MATTERS MOST
Our experts work with you to design and implement strategies to wisely manage wealth, so you can face your financial future with confidence.
RESOURCES FOR BUSINESS OWNERS
Have questions? Want to learn more about our team?
Brightworth helps you by understanding your ultimate goals for your business, family, philanthropy, and legacy. We then review options, create a clear strategy and plan to reach those goals, and partner with you over the long term in executing and monitoring the plan. Throughout this partnership, we can help you with a plan to get an optimized tax outcome, one that is customized to your objectives to include tax, charitable giving, and wealth transfer strategies as applicable. This lets you focus on what you're best at, successfully managing your business and personal life.
Meet the Business Owner Services Specialists
RAY V. PADRÓN, CPA, CFP®, CIMA®
Chief Executive Officer | Wealth Advisor

Ray has over 25 years of experience working through the complex wealth planning issues business owners, executives, and retirees face. His expertise and experience bring a unique perspective regarding how his clients' wealth is built, preserved, and deployed for the greatest impact.
MIKE QUINLAN
Managing Director, The Business Owner Transition Academy
With over 33 years of military aviation and business experience, Mike helps business owners NAVIGATE their options and opportunities to exit their business, maximize transaction value, and maximize the probability of a successful transaction.
ANNIKA CUSHNIE, CFP®, CIMA®, CEXP™
Partner | Wealth Advisor
Annika's experience and passion for working with attorneys and business owners make her uniquely positioned to help her clients reach their financial and lifetime goals. As a Certified Exit Planner, she helps business owners think strategically about their business and personal wealth planning.