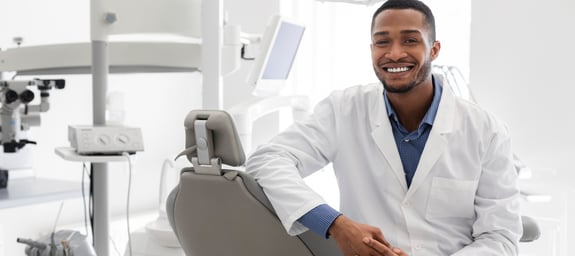 Dental Industry
CI Brightworth's Dental Specialty
HELPING DENTISTS FOCUS ON WHAT MATTERS MOST
Many days, successful dentists can feel trapped by their own success. You want to help your patients, but managing the business side of your practice, along with your personal and social life – if you can find time for one – is often overwhelming. And when it comes to finances, how can you know if you are making the best decisions for yourself, your family, and your practice?
We get it. For over 20 years, CI Brightworth's dental specialty (formerly McGill Advisors), has been guiding dentists' transition out of their financial planner role so they can focus on what matters most - their patients, staff, family, and community. There are a lot of financial professionals out there, but you need one who not only can help you with a personal financial plan, but also who understands the unique needs of dentists. Our Wealth Advisors each focus on a specialty, from dentists to corporate executives to business owners, allowing them to tap into other specialists' experience and expertise.
From saving for your family's future, to understanding when and how to grow someday or sell your practice, we have the experience and expertise to help you approach your financial future confidently.
OUR TEAM
Your financial life is complex and evolving, and when you have questions, we believe you deserve answers. That's why we build your experience around a team, so you get the full depth of our expertise and care.
YOUR WEALTH ADVISOR
Responsible for leading and coordinating your Brightworth team to ensure a fantastic client experience.
Responsible for creating, implementing, and monitoring a bespoke financial gameplan that integrates our firm's best ideas with your unique goals and circumstances
YOUR WEALTH PLANNER
Collaborates with your Wealth Advisor and assists with the creation and ongoing monitoring/updates to your financial plan
During periods when your wealth advisor may not be available, your wealth planner will serve as your primary point of contact and fulfills the responsibilities of the wealth advisor
YOUR RELATIONSHIP MANAGER
Your day-to-day team point of contact who will assist on a range of issues ranging from facilitating the client onboarding/account transfer process to other items such as wiring money, establishing monthly drafts into accounts, and anticipating your needs
wealth advisors
Brett is a Wealth Advisor at CI Brightworth. Prior to joining McGill Advisors, he worked as a wealth advisor and wealth planner catering to high net worth and ultra-high net worth clients in the Washington, DC, and Raleigh, NC markets.
Jason's background in serving high-net-worth families in addition to his education and experience in advanced wealth transfer techniques, helps him serve clients' unique needs.

TENLEY DESJARDINS, CPA, CFP®, PFS
Associate Wealth Advisor
Tenley is an Associate Wealth Advisor with CI Brightworth. Prior to joining McGill Advisors, she worked for a Big 4 accounting firm in the Private Client Services tax department.
Thomas is a Partner and a Wealth Advisor at CI Brightworth. Thomas graduated from The University of the South in Sewanee, TN with a bachelor's degree in English and a concentration in Economics.
Herman is a Wealth Advisor with CI Brightworth. He graduated with a degree in Marketing and a Masters in Business Administration from the University of New Orleans.
Eric is a Partner and Wealth Advisor at CI Brightworth. Prior to joining McGill Advisors, Eric worked for a local tax and wealth management firm for 10 years.
Andrew is an Associate Wealth Advisor at CI Brightworth. Working closely with Small Business Owners, Dental Professionals, and Attorneys; Andrew aims to create financial plans that align with each client's values and goals.
Practice Area Leader, Dental Specialty | Wealth Advisor
Brett is Division Partner-In-Charge and Wealth Advisor at CI Brightworth. Brett graduated from The Citadel with a degree in Business Administration (Accounting Concentration).
Warren is a Partner and Wealth Advisor at CI Brightworth. Warren graduated from Wake Forest University with a degree in Communications, a minor in International Studies, and completed an intensive program of business disciplines.
Jalen is an Associate Wealth Advisor at CI Brightworth. Prior to joining CI Brightworth, Jalen worked in both financial services and non-profit development. He received his bachelor's degree and MBA from the University of Delaware.
Co-Founder | Wealth Advisor
Bob is Co-Founder and a Wealth Advisor at CI Brightworth. Bob has more than 30 years of professional experience in financial and investment planning.
relationship managers
Senior Relationship Manager
Since Jenna joined CI Brightworth, she has focused on understanding the needs of her clients and is committed to helping each of them realize their retirement goals.
Senior Relationship Manager
Originally from Pennsylvania, Caitlin graduated magna cum laude from West Virginia University with a degree in Marketing. Upon graduation, she moved to Charlotte and became a part of the CI Brightworth team.
Senior Relationship Manager
Erin Henry graduated from Appalachian State University with a degree in Finance. She worked in a couple of different financial fields before landing at CI Brightworth and, as she says, "I'm not going anywhere!"
Practice Area Administrator
Susan has been with CI Brightworth since its inception. She started as the only support person and was a Senior Relationship Manager and Supervisor of Division Services for 22 years.
Senior Relationship Manager
Megan is a Senior Relationship Manager who joined our team in 2014, after graduating cum laude from the University of North Carolina at Charlotte with a Bachelor of Science in Business Administration degree.
Jacobi is originally from Wisconsin and graduated from the University of Wisconsin-Eau Claire in 2012 with a degree in Sociology. Following graduation, she moved to Charlotte and joined the CI Brightworth team in 2018.
Originally from West Virginia, Misty relocated to North Carolina in 2014. She joined the CI Brightworth team in 2020, bringing more than 14 years of financial service experience. Misty prides herself in building relationships with her clients and providing the attention each client deserves.
Kelsey joined the CI Brightworth team bringing 15 years of financial service experience. She is passionate about creating and developing long-lasting relationships with clients.
Senior Relationship Manager
Teresa moved to Charlotte from Adelaide, South Australia a few years ago and loves it here. Her attention to detail and passion for a challenge makes her a valuable member of the CI Brightworth team.
OUR STORY
From our founding over 20 years ago, our financial professionals have focused exclusively on the needs of the dental profession. As dentistry has evolved, so has the financial profession, which has driven our steady growth and change as a firm.
Back in 1999, when Bob Sytz and John McGill created McGill Advisors, very few Registered Investment Advisors (RIAs) focused on a specialty. By building technical expertise and a client service model that was in sync with the needs of dentists, the new firm grew quickly, developing customized strategies for tax planning, qualified retirement plans, education planning, and more.
In 2017, McGill Advisors merged with Brightworth, giving both firms greater resources in areas such as client service, investment offerings, and technology. One of those resources was the BrightView online dashboard, which empowered clients to model and forecast various financial scenarios and retirement outcomes.
Four years later, Brightworth and McGill Advisors agreed together to be among the earliest firms to join CI Private Wealth. This continues to provide our Dental team with access to leading technology and even broader breadth of service offerings. As part of that transition, in 2022 we formally changed our name to CI Brightworth Private Wealth.
Rooted in the past while building for the future, CI Brightworth's Dental practice area continues to empower dentists to focus on what matters most.
Thank you for your trust, and we look forward to serving you for many years to come.
INVESTMENT INSIGHTS
Published quarterly, our "Investment Commentary" provides an overview of the economy and the financial markets, provided by our investment committee. Common topics of discussion include monetary and fiscal policy updates, sector performance, investor sentiment, and interest rates.
EMPOWERING YOU TO FOCUS ON WHAT MATTERS MOST
Personal wealth planning for your family's confidence and peace of mind.
RESOURCES FOR DENTAL PROFESSIONALS
Bright ideas for dental professionals straight from our blog.
Newsletter
THE DENTAL CONNECTION
The Dental Connection is your access to curated content to help you understand your finances and thrive in your industry. Sign up here to get the newsletter in your inbox.
WANT TO SPEAK TO AN ADVISOR?
Schedule 30 minutes now for a complimentary conversation with an advisor.
"Saving regularly creates a recurring sense of accomplishment, and from my observation results in a higher level of satisfaction in our daily lives."
- Brett S. Miller | Division Partner-in-Charge, Dental Specialty