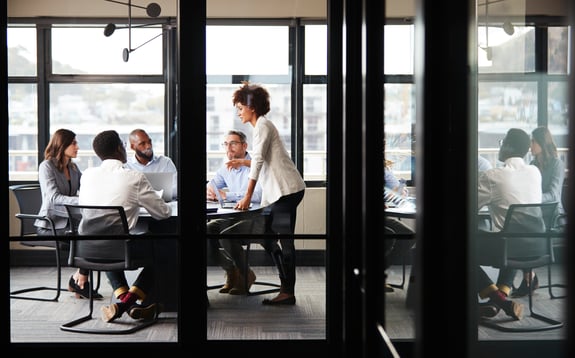 PROFESSIONALS AND EXECUTIVES
Building your wealth in corporate America and then transitioning out
WORKING WITH US
Corporate professionals and executives from over 300 companies have chosen Brightworth. Select a company logo to learn more about how we help employees at some of these companies.
Brightworth has worked with clients who are either current or former employees of the above listed companies and/or their predecessors. This does not imply that Brightworth is endorsed by the companies themselves.
WHILE YOU SPEND YOUR TIME WORKING, YOUR MONEY SHOULD WORK WITH YOU
Our book, Building Your Wealth Inside Corporate America can help you figure out your finances as a corporate professional.
Read More
FINANCIAL WELLNESS PROGRAMS FOR YOUR ORGANIZATION
Empowering your employees to take control of their personal finances can help increase their satisfaction and performance at work.
Brightworth can help your employees understand their personal finances so that you can build a stronger team.
What we offer:
Seminars
Ongoing Engagements
Want this great content in your inbox?
THE CORPORATE CONNECTION
The Corporate Connection is your access to curated content to help you understand your finances and thrive in corporate America. Sign up now!
HELPING YOU TO FOCUS ON WHAT MATTERS MOST
Our experts work with you to design and implement strategies to wisely manage wealth, so you can face your financial future with confidence.
Have questions? Want to learn more about our team?
The team at Brightworth has decades of experience helping busy corporate professionals and executives navigate the complexities of their company compensation and benefits plans. We work hard to understand what is important to you, and how to map the complexities you face with meeting your financial and life goals.
Meet the Corporate Professionals and Executives Specialists
Frequently Asked Questions
Can I hire you to just do a financial plan for me, and not manage my investments?
Financial planning is a lifelong process. It is also the first step to building a comprehensive strategy. We believe all areas of a client's current financial life and future goals should be analyzed before financial planning recommendations are presented. Investments are the economic engine to achieve your goals, and we coordinate our client's investment strategy to actively manage investment portfolios with the client's comprehensive financial plan.
What is the process to get started?
A wealth advisor will meet with you, including a virtual option, to discuss your financial questions, concerns, and goals. We will then establish a secure portal for you to share your current financial documents with us, which we need to analyze and develop your comprehensive financial plan. It usually takes a few weeks from initial engagement to the delivery of your financial plan. A virtual option also exists for this second meeting.
How often will I hear from you?
Regularly! The first year working together will include several calls, emails, and meetings (including virtual options) for us to understand your personal and financial situation, present our recommendations, and ensure action items are implemented. Ongoing we request to meet with our clients at least once a year to review your updated comprehensive financial strategy and investment performance. As tax laws change, market opportunities present themselves, or economic factors shift, we strive to proactively communicate with our clients. These communications include personalized advice for your situation in addition to global and economic commentary. You have a team of professionals at Brightworth ready to assist you including your wealth advisor, financial planner, and client service relationship manager.
What size clients do you work with?
We will help you build, grow, and protect your wealth to achieve your life's goals. At Brightworth we desire to work with clients who seek a long-term advisory relationship. Our company is built for the long haul. If your liquid investment assets are under a $1 million managed portfolio size at this time, your wealth advisor will present a custom consulting fee arrangement to meet your needs and our service offerings.