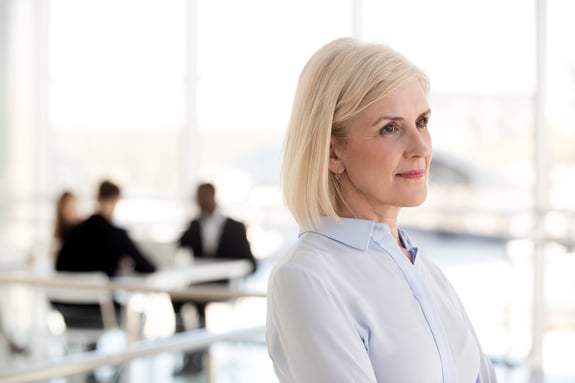 BUSINESS OWNERS
Evaluate. Plan. Execute. Succeed.
BUSINESS OWNERS
Your finances are unique. Your wealth advisor should be unique, as well.
When you own a business, the rules of corporate America don't apply. Instead, you're writing your own rulebook in an ever-changing environment. But even so, you've learned you simply cannot do everything yourself. You need a team of trusted experts.
Managing your personal finances as you manage your business is where Brightworth's expertise comes in. Many wealth advisors only look at a fraction of your financial picture: investable assets. We've worked with business owners for years and we understand that much of your wealth is invested in your business, not your bank. We can help you develop and execute a personal financial plan that frees you to focus on what you do best: running a successful business.
And when someday you're ready to prepare to step away from your ownership role, The Business Owner Transition Academy™, a Brightworth subsidiary, is there to help you optimize your business' value and probability of exiting on the best possible terms and without regret.
HELPING YOU TO FOCUS ON WHAT MATTERS MOST
Our experts work with you to design and implement strategies to wisely manage wealth, so you can face your financial future with confidence.
RESOURCES FOR BUSINESS OWNERS
Bright ideas for business owners straight from our blog.
Newsletter
THE BUSINESS OWNER CONNECTION
The Business Owner Connection is your access to curated content to help you understand your finances and eventually exit your business on your terms. Sign up here to get the newsletter in your inbox.
THE BUSINESS OWNER TRANSITION ACADEMY
Evaluate. Plan. Execute. Succeed.
Only 1 in 4 business owners will successfully exit their business*. Will you be one of them? From in-person courses to online resources to individual coaching and consulting engagements, The Business Owner Transition Academy™ can help you increase the odds of a successful exit.
*Study Shows Why Many Business Owners Can't Sell When They Want To, forbes.com, February 5, 2017
Have questions? Want to learn more about our team?
Brightworth helps you by understanding your ultimate goals for your business, family, philanthropy, and legacy. We then review options, create a clear strategy and plan to reach those goals, and partner with you over the long term in executing and monitoring the plan. Throughout this partnership, we can help you with a plan to get an optimized tax outcome, one that is customized to your objectives to include tax, charitable giving, and wealth transfer strategies as applicable. This lets you focus on what you're best at, successfully managing your business and personal life.
Meet the Business Owner Services Specialists
RAY V. PADRÓN, CPA, CFP®, CIMA®
Chief Executive Officer | Wealth Advisor

Ray has over 25 years of experience working through the complex wealth planning issues business owners, executives, and retirees face. His expertise and experience bring a unique perspective regarding how his clients' wealth is built, preserved, and deployed for the greatest impact.
MIKE QUINLAN
Director in Charge,
Business Exit and Transition Services
With over 33 years of military aviation and business experience, Mike helps business owners NAVIGATE their options and opportunities to exit their business, maximize transaction value, and maximize the probability of a successful transaction.
ANNIKA CUSHNIE, CFP®, CIMA®, CEXP™
Partner | Wealth Advisor
Annika's experience and passion for working with attorneys and business owners make her uniquely positioned to help her clients reach their financial and lifetime goals. As a Certified Exit Planner, she helps business owners think strategically about their business and personal wealth planning.
MIKE DEWITT, CFA
Partner | Wealth Advisor
Mike has dedicated his career to serving high-net-worth families and nonprofit organizations. His personal approach and desire to help individuals reach and enjoy their retirement goals enable him to provide clients with the highest level of service.
NATHAN CORBITT, CPA, CFA, CFP®, CEXP™
Partner | Wealth Advisor
Nathan's experience as a tax advisor combined with a keen understanding of investment strategy and economics, allows him to provide individuals with a basic understanding of the most complex aspects of their financial lives.